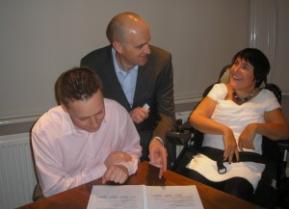 This word is extremely emotive and thought provoking. For many it is empowering and for others it brings fear and uncertainty that perhaps people have never had to face before. It is true that for some severely ill and severely disabled people, it may not be possible for them to work. However, there are many people who are capable of working but for a number of reasons they do not work.
As with many things in life, employability is never a clear cut subject to talk about and has many grey areas.  For some people it is a lack of confidence and self–belief that prevents them from working. For others it may be family circumstances such as young children, looking after relatives or that generations of one family have never worked. Education, language barriers and financial situations may also play a part.
However, it is important that each individual is listened to, supported and encouraged to succeed and achieve their own employability goals at their own pace and shown that with the right support and guidance many more people CAN work.
From the 15th October 2013 Giselle Ruoss has been employed as a tutor by the Workers Educational Association to work in partnership with Job Centre Plus to deliver a series of Employability courses including:-
ESOL for work – learners for whom English is a second language
INSPIRE – confidence and ability into work and education (age 20+)
Lone parents – confidence and ability, back to work and education
PRIME – confidence and ability, back to work and education (age 50+)
Share article...