'Raise Your Game Now' Conference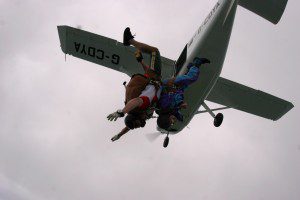 Well how's this for our first guest speaking appearance in February 2012 – the one and only Twickenham Rugby Stadium, not bad eh? We were invited to the 'Raise Your Game Now!' conference hosted by Paul 'Stalkie' Stalker and the Extra Mile Partnership to give a motivational speech to representatives of 100 businesses we 'jumped' at the chance – quite literally!
The speech we gave was 'Rebel with a cause' – telling the audience why Giselle would jump out of a perfectly good plane? Well that's a good question and the answer kept people on the edge of their seats, by the end of the speech people were adamant that there is no way that they would do that. In answer to a statement like that, it is amazing what you would do if you are determined to make a difference to other peoples' lives including your own.
The whole conference over the two days was to inspire the delegates to view their whole working life balance differently and to appreciate what they have got rather than what they have not yet achieved. The conference defiantly gave everyone food for thought and a positive view on life!
So in these days of uncertainty and fear about what tomorrow may bring – try to take a minute to reflect on all the positive things in life you have achieved and will achieve for yourself and others around you. If you still think after reading this short paragraph that you have very little to smile about maybe it's time to start thinking Outside The Box!
Share article...