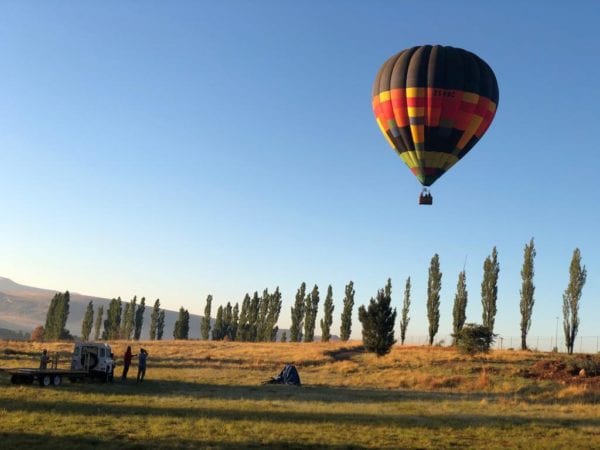 On holiday in South Africa in November 2019, we travelled 3,000 miles in 10 days and I had a dream come true too.
Waking up on a Saturday morning at 3.00am, to a beautiful clear starry night in Clarence, Orange Free State,  South Africa, which is surrounded by the Drakensburg mountain range was a great sign that my next adventure was about to happen!
It seemed like today was the perfect day for a hot air balloon ride.
We had been arranging this all week as the first attempt was cancelled due to heavy rain in Cape Town.
Wrapping up warm we drove to the local Golf Course, 10 minutes from the Guest House we had stayed in the night before.
By this time it was 4.00am and excited, I stayed in the car while the Balloon Manager lit up the gas burners to inflate the balloon.
The colours, sights and sounds around us all were magnificent; not only of the landscape but of the balloon itself too.
My manual wheelchair had been fixed to the base of a section of the basket; and the balloon was laid on its side as I was lifted into my wheelchair in the basket.
More hot air was released by the burners, and our journey began.
We all learnt a new move in ballooning technical speak, the 'Dip and Skim' where the balloon glides across a river, the balloon is slightly lowered and quickly raised back up again to 'Dip and Skim' the water. The feeling was exhilarating.
Nine other people were with us in two balloons and the trip was awesome with breathtaking views and it was an experience I will never forget.
By 6:00am we were all back at the Golf Course having breakfast together and knowing that this was another day in my life that memories are made of!
Share article...